As if baseball wasn't far enough from my mind at the moment, the NFL broke some serious news last night regarding yet another team relocation: the Chargers are moving from north from San Diego to Los Angeles to join the Rams, giving LA its 2nd NFL team is any many years and leaving poor San Diego with…the Padres. Just want to throw this in here before moving on:
Franchise moves, last 40 years: MLB 1, NBA 7, NHL 7, NFL 9.

— Bill Shaikin (@BillShaikin) January 12, 2017
*cough*
Although many fans have called for either an expansion or relocation to give Montreal a team again, I admire baseball's stability and loyalty to its fans (or its stubbornness to change, if that's how you want to perceive it).
That said, the Chargers' move gives LA an absurd number of professional teams, tying New York for the most among Big 4 sports (baseball, basketball, football, hockey) with 8 franchises, 2 teams from each league. In this case, I don't think more is always the merrier and bigger is not always better.
As a Detroit sports fan, I know what it means to be terrible. My Lions went a winless 0-16 in 2008, the only NFL team to ever do so, and somehow managed to fall backwards into the playoffs and go quietly in the first round not three weeks ago. My Tigers have been swimming in the close-but-no-cigar pool for the last 5-7 years, after setting the American League record for losses in a single season in 2003 with 119. My Red Wings, despite winning a Stanley Cup as recent as 2008, are on the verge of seeing their quarter-century playoff berth streak come to an end this season while barely managing to float around .500. And my Pistons, who won the title in 2004 and almost repeated in 2005, have one winning season in the last seven and have cycled through seven head coaches in ten years.
Let's analyze Los Angeles.
The Rams are a total mess right now and have been for quite some time. They haven't been to the playoffs since 2004, their only title came in 2000, finished 4-12 this year, and will likely get worse before they get better. The Chargers were marginally better this season but have had even less postseason success, losing in their only Super Bowl appearance in 1994. The Ducks and Kings are LA's best feature at the moment; the Ducks won the Stanley Cup in 2006/7 and have won their division the past 4 seasons (and are in 1st this season).
The Kings won the Cup in 2011 and 2013, and though this is a down year, they are still one of the NHL's most consistent teams, making the playoffs in 30 of their 49 seasons in existence. The Clippers have never appeared in the NBA Finals, and the Lakers are obviously the Lakers, even though they've gone 80-208 the last four seasons, a winning percentage of .277. The Angels have only one title from 2009, haven't won a playoff game since 2009, and have only appeared in the postseason in 10 seasons out of 55 played.
Hockey is LA's greatest sport right now and has been since I graduated high school, which is crazy ironic because it is by far the least popular sport. This past summer's Stanley Cup Finals saw some of the lowest TV ratings ever for the sport, a brutal overnight 2.8 for Game 1, which got beat out by The Bachelorette and the NBA Conference Finals Game 7.
But where do the Dodgers fit in to the weird and larger-than-life landscape of LA sports? They were one of MLB's best teams before leaving Brooklyn (1 title and 5 pennants in a 10 year span) and somehow became better after they planted their roots in LA. In their first 9 seasons after relocation, the new Los Angeles Dodgers won three World Series and another pennant, much of it on the arm of Sandy Koufax, making them the latest dynasty in baseball since the Yankees' 5-peat (?) just after WWII.
The Dodgers won two titles in the 1980s, but since then they've come up empty more often than not. And its not from lack of chances or ability, they just couldn't get it done. They had an incredible team this year but the Cubs teamed up with destiny to punch everyone in the face, so I don't think anyone was going to beat them, no matter what.
Dave Roberts won the NL Manager of the Year award in an upset over World Champ Joe Maddon, but I take expectations of a team heavily into account when predicting the MOY. Maddon has a track record for being an excellent manager and with this particular Cubs team, it was World Series or bust. Roberts, on the other hand, was taking over an LA team that had more questions than answers and as the season wore on it never got any easier. Starting a rookie shortstop, #1 prospect in baseball or not, is risky for a playoff team (compared to Dansby Swanson down in Atlanta who has a few years to grow until he's expected to win the NL); trading away a veteran catcher (and Kershaw's personal catcher) could have been hazardous, and as always, Yasiel Puig's off the field stories were more important than the ones on it. Roberts handled whatever the game threw at him with grace, class, and dignity of a longtime manager and did so in one of the most exposed and highly visible markets that baseball, or any sport for that matter, has to offer. Kershaw's injury in the middle of the season was supposed to be the nail in the coffin for these Dodgers; the 1-2 starters for them after their ace went down were 36-year old Rich Hill, and 19-year old Julio Urias, who had never pitched in the majors before that summer. Roberts kept them on the winning track, and, paired with a Giants collapse in the 2nd half, they were crowned NL West Champions for 2016, even when no one expected them to.
2017 is a different story. The expectations will be much higher for these Dodgers moving into spring and beyond; they are many's favorite to win the pennant if not at least fight the Cubs for it in a rematch of last year's wildly entertaining NLCS. They bring to the table such a unique collections of talent that is so coveted among championship teams that it finally might make their astronomical payroll worth it. As we learned last year with the Cubs, and to a certain extent, the Indians with their midseason trades, the ring makes everything worth it.
We know Dave Roberts can manage a game.
He hopped on the bandwagon of using relievers in unorthodox roles last postseason, like when Kenley Jansen pitched three innings in Game 6 of the NLCS  and held the Cubs at bay, although it was for naught because they already had a 5-run lead. More importantly (maybe), we know Dave Roberts can manage a team as well. Puig's trips back and forth to AAA dominated much of the news cycle for the summer when it wasn't Olympics or the daily update on Steph Curry and the Warriors training camp.
We know Clayton Kershaw can pitch. We also know that Clayton Kershaw has had some postseason demons follow him into October, and he came oh so close to exorcising them once and for all. He pitched in all 3 wins in the divisional round, including coming out of the bullpen for the save one one day's rest. He threw a 7 inning marvel in Game 1 of the NLCS, allowing only 2 hits and striking out 6, eventually turning the ball over to Jansen for a 6-out save with a 1-0 lead. It was textbook gritty postseason baseball at its finest for so long, and then the Cubs got the best of him in Game 6 to advance. They did the same thing against Kluber in Game 7 of the World Series; after being carved up in Games 1 and 4 (Kluber set a World Series record with 8 strikeouts in 3 innings in Game 1), the Cubs attacked early and often, getting the lead after Fowler's lead off dinger.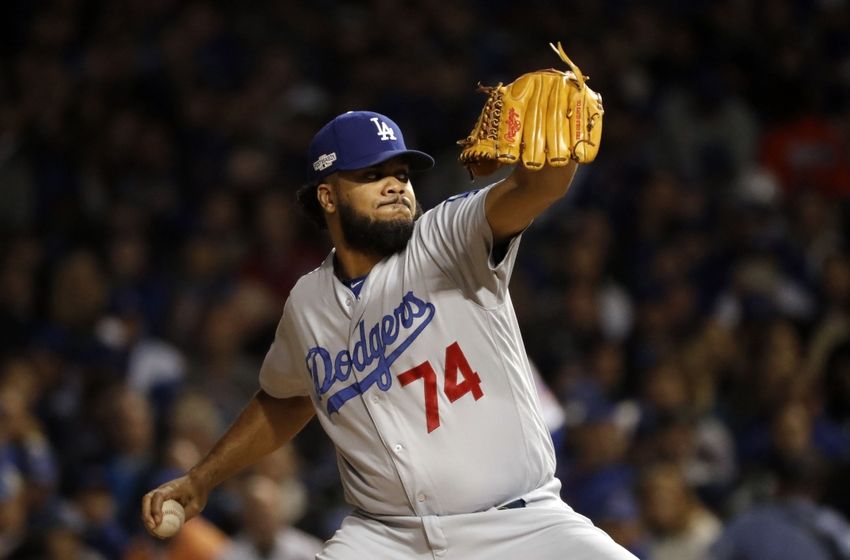 Kershaw has been the model of durability until last year when he had his first major injury as a professional. He missed 12 starts and threw fewer than 170 innings for the first time since his rookie year, leaving the Dodgers to panic-trade for Rich Hill and bring up Julio Urias in the middle of the summer. Both performed admirably and will likely be the 2-3 starters for the Dodgers
(depending on if Roberts really wants to throw 3 straight lefties) despite being about as opposite as two pitchers could be. Add the lights-out cushion of newly-extended Kenley Jansen to the mix (who performed equally as admirably in the postseason), and their pitching staff is in excellent shape.
As far as my amateur calculations go, the Dodgers are one of the most complete teams in the National League, and should be favored in their division for the first time in a long time. I have a strong feeling that the NLCS will be a rematch of Cubs and Dodgers and that is no way a problem in my neighborhood.
Chargers or no Chargers, baseball titles have eluded Los Angeles for quite some time. The Dodgers haven't won a World Series or a pennant since before I was born, but the Dodgers are in excellent shape moving forward. It's time that payroll starts earning some return on investment.
Header photo: Rob Carr, Getty Images