Happy 2016, baseball fans! With the buzz of the Hall of Fame announcement behind us (congratulations Griffey and Piazza) and the angry mob slowly making their way towards the writers' homes, let's look ahead to the 2016 baseball season and try to hash out where the remaining marquee free agents will land.
The Dodgers recently signed Kenta Maeda to a team friendly 8-year deal, which I think is a major risk on an unproven pitcher. Yankees import Masahiro Tanaka has proven to be well worth the investment, but he has shown signs of arm trouble and was not signed for 8 years. Maeda will bring much needed depth to a Dodgers rotation that has also recently signed Scott Kazmir.
The defending champion Royals re-signed fan favorite Alex Gordon to a 4-year, $72 million deal which makes me wonder whether Gordon was serious about signing elsewhere and just wanted to leverage his position on the market into more money at home. This is a smart move by the Royals, who are suffering little to no attrition, to keep one of their cornerstone players on the payroll as they seek to repeat in 2016 (this move helps their cause tremendously). Though it is a little out of character to spend this level of money, the Royals know better than anyone what level of return they will get on this investment. I'm sure most Kansas City fans will consider it a slam dunk.
The Gordon move also gives us a frame of reference and will (hopefully) get the market moving on remaining free agent outfielders Justin Upton and Yoenis Cespedes. According to MLB Trade Rumors, the Orioles have showed an interest with both camps and have money to spend since they pulled their mega-millions offer away from slugger Chris Davis. Earlier this offseason, the Cubs signed outfielder Jason Heyward to an 8-year, $184,000,000 contract with an opt-out clause after the 2018 season. If we use the Gordon and Heyward deals as book-ends, if you will, to feel the climate of the OF market, then I think we can assume that the last three big names (Upton, Cespedes, Davis) will land somewhere in that range.
Justin Upton
2015 with Padres: .251/.336/.454, 26 HR, 81 RBI
Possible destinations: Texas, St. Louis, LA Angels
Upton had a disappointing year, a microcosm of the 2015 Padres, who signed star after star and were still on the outside looking in when the season ended. After 9 seasons in the league, though, Upton will likely receive the benefit of the doubt and land a lucrative deal somewhere, even though most rumors I'm seeing are mentioning one year deals. The Rangers have shown interest in a one-year deal, and though I don't think Upton would be crazy about a deal of that length, he would be an excellent fit. The Josh Hamilton Homecoming Experience didn't quite pan out for the reigning AL West champions, though Prince Fielder returned to form with a .305 average last year. Upton, who has shown to be slow in his first year in new places (his 3 lowest career averages came in his first years in Arizona, Atlanta, and San Diego), would make sense as protection for Prince as the 4 or 5 hitter, and either play left or right field. A one-year deal makes sense because the Rangers have Joey Gallo, the 9th rated prospect according to MLB.com pre-2015, waiting in AAA. He appeared in the show briefly last year, hitting .204 with 6 home runs and 57 strikeouts in 36 games. Stats like that show that he could use another year in the minors to shorten that swing and work on a little pitch recognition. St. Louis also makes sense because they lost the Jason Heyward sweepstakes to their rivals of the Windy City, as well as Jon Jay to the very same Padres. Rookies Randall Grichuk and Stephen Piscotty look poised to take over the full time duties of the outfield but they are almost carbon copies of each other – they don't provide the power Upton can. Matt Holliday is entering his age 36 season and had his fair share of injuries in 2015, only appearing in 73 games. The Angels also are looking for a hitter to protect Pujols and Trout as well as join Kole Calhoun in the outfield. The Angels held a variety of auditions in the outfield, including David Murphy, Shane Victorino, David DeJesus, Kirk Niewenhuis, and Matt Joyce, all to no avail.
Prediction: St. Louis
Yoenis Cespedes
2015 with Tigers/Mets: .291/.328/.542, 35 HR, 105 RBI, 101 R
Possible destinations: Detroit, Baltimore, Washington
Yo had an electric beginning and end of 2015, being elected to his first All-Star Game and his first season of his career scoring and driving in 100 runs. Tigers fans (me included) would love to see Yo back in left field given the disastrous platoon of Cameron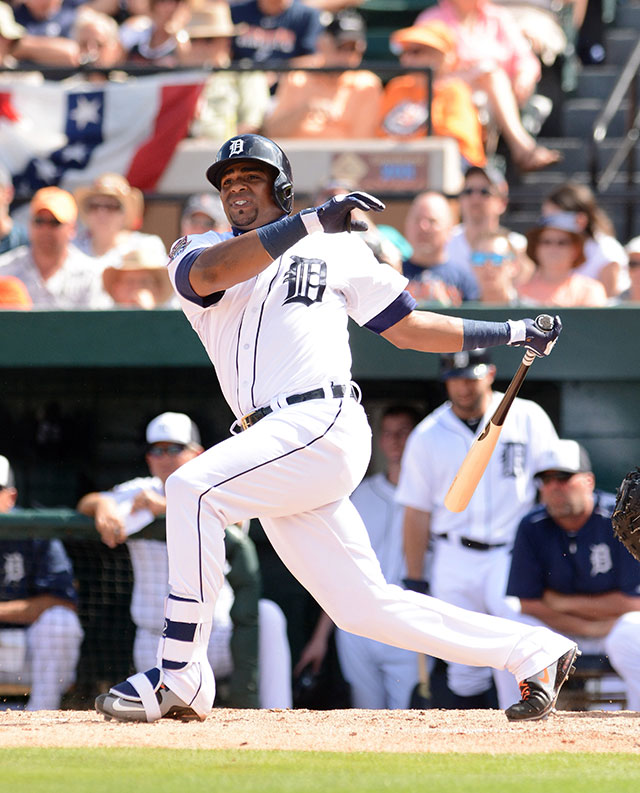 Maybin/Tyler Collins/Anthony Gose, but the Tigers have eclipsed the luxury tax by signing Mike Aviles and GM Al Avila says their 2016 roster is basically set. I think the fans and writers want it to happen because it makes sense, but he might be a hair too expensive for their checkbook right now. The O's, after pulling their offer from Chris Davis, are also looking for an outfielder (though Davis is a primary 1B) that isn't asking for $25 million a year or more. Camden Yards is a tiny little park that would complement Yo's laser line drive home runs nicely; the O's 217 home runs were 3rd in the AL last year and their 211 home runs led the AL in 2014. Can you imagine he and Adam Jones in the same outfield? Sweet mercy. The Nationals recently saw Denard Span move across the country to San Francisco, so they'll likely ask Michael Taylor to play full time center field, and pray that Harper can repeat his 2015 in right field. That leaves Jayson Werth, withered, eroded, and broken Jayson Werth, out in left. I'd take Yo, too. I've also seen rumors of Cespedes to the White Sox as well, though that makes me scratch my head because they have a pretty solid outfield as it is in Melky Cabrera, Adam Eaton, and Avisail Garcia.
Prediction: Baltimore
Chris Davis
2015 with Orioles: .262/.351/.562, 47 HR, 117 RBI, 208 K's
Possible destinations: Baltimore, New York Mets, LA Angels
The destinations might sound a bit repetitive after the first two free agents, but after all, there are only a handful of teams looking for an outfielder, and there are even fewer who are looking to land a first base/outfielder hybrid who strikes out a lot.
Ownership still thinks highly of Davis even though they couldn't agree on a contract last year and his skill set would fit Baltimore the best (mainly because he blossomed in that same organization). I think the Mets make sense too even though there haven't been rumors linked to him. The Mets have a 1B in Lucas Duda, casting Davis to play the outfield, which he did in 57 games in 2015. Granderson can play left, Lagares in center, and Davis can take right unless Michael Conforto is ready to take up the full time duties of the position. LA makes sense for the same reason; if Pujols needs to rest his legs and play more DH, Davis can step in at first, or he can also step into the outfield for some reps beside Trout, too.
Prediction: LA
The next problem: who is willing to take the first move? All three are waiting to see where the other two will sign and for how much, that way they can leverage their colleague's deals into a more lucrative one of their one. Gordon's relatively low deal won't help their case considering Davis already turned down twice that amount.
We'll see. Thanks for reading.