Let's talk NL East.
I'm not excited, either, Jim, but we have to.
The NL East is the worst and least competitive division in baseball this year. Those don't necessarily go hand in hand; the AL Central won't necessarily have good baseball but it will be thoroughly entertaining and likely come down to a close divisional race. The NL East could have the biggest disparity in the league between its worst and best team; last season the distance between the division winning Mets and division losing Phillies was 27 games, the 2nd biggest margin in the majors (only NL Central, which had the 3 best teams ever, had a bigger margin). Two of the teams are 100-loss candidates as of right now it really isn't a race to the top either; this is going to be a pretty vanilla division from start to finish.
2015 Results
1) New York Mets, 90-72, lost World Series
2) Washington Nationals, 83-79
3) Miami Marlins, 71-91
4) Atlanta Braves, 67-95
5) Philadelphia Phillies, 63-99
Atlanta Braves
Key Additions: SS Dansby Swanson (prospect, but he's important), IF Gordon Beckham, SS Erick Aybar, OF Ender Inciarte, IF Kelly Johnson
Key Losses: SS Andrelton Simmons, OF Cameron Maybin, P Shelby Miller
The Braves went full reload mode this offsesaon, and rightfully so. They shipped Shelby Miller to the Diamondbacks and completely robbed them of #1 prospect and draft pick Dansby Swanson, the shortstop of the future, and Ender Inciarte, who is only 25 himself and could blossom into a stud in the future. For 2016 and the purposes of this article, the Braves are just bad, but they know that; their plan is to wait a few more years and with some more good drafts, will find themselves on top of the NL East once again.
Lineup: To be honest, it's really not horrible, but this isn't the part of the team people scoff at. The 2-3-4 hitters are all high contact hitters (2015 Braves struck out the fewest among NL teams) but there is little power and little support after them (2015 Braves were last in slugging, home runs, runs scored, and opponents chopped). They'll struggle to score 600 runs.
1) Michael Bourn, CF
2) Ender Inciarte, LF
3) Nick Markakis, RF
4) Freddie Freeman, 1B
5) AJ Pierzynski, C
6) Kelly Johnson, 3B
7) Erick Aybar, SS
8) Jace Peterson, 2B
Rotation: Julio Teheran, Mike Foltynewicz, Manny Banuelos, Matt Wisler, Bud Norris
Opposing hitters will have fun against this group. Here's a nice article about what Teheran can do to improve in 2016, but he'll likely be their lone winning pitcher.
Miami Marlins
Key Additions: UTIL Don Kelly, P Wei-Yin Chen, P Edwin Jackson, IF Chris Johnson
Key Losses: P Dan Haren, P Henderson Alvarez
The Marlins have a lot to be excited about this season. Hiring Don Mattingly/reuniting him with Dee Gordon is huge for the clubhouse, especially with Barry Bonds as the hitting coach of a team that will hit approximately 3 million home runs this season. The highly regarded Grant Brisbee wrote an excellent piece on the Bonds experiment here. They are getting Giancarlo Stanton and Jose Fernandez back after injuries in 2015, and ride them all the way to the bitter end (even if ownership wants Miguel Cabrera, Mike Trout, Yasiel Puig, Matt Harvey, Derek Jeter's shoes, a rocketship, and a McDonald's gift card in a Fernandez trade).
Lineup: It's actually really, really good. Gordon led the NL in hits last season, Justin Bour supplied 23 homers as a rookie and will back up Stanton in the lineup, and Prado is one of the most underrated in the division. Though they finished 2nd to last in the NL in runs, home runs, and total bases, I take those numbers with a grain of salt because once Stanton went down, the Marlins just couldn't swim any further. Having him back to beat up on the scrawny Phillies and Braves will put them at least 10 wins better than last season.
1) Dee Gordon, 2B
2) Christian Yelich, LF
3) Giancarlo Stanton, RF
4) Justin Bour, 1B
5) Marcell Ozuna, CF
6) Martin Prado, 3B
7) JT Realmuto, C
8) Adeiny Hechavarria, SS
Rotation: Jose Fernandez, Wei-Yin Chen, Jarred Cosart, Tom Koehler, Edwin Jackson
Fernandez is an ace anywhere he goes (except for maybe LA or New York), and Chen is a great #2. He gave up his fair share of homers last year, but he pitched in tiny Camden Yards and is coming to spacious Marlins Park. Cosart and Koehler are a box of chocolates, and Jackson is just for innings. Fernandez will be on an innings limit which will stress the bullpen; Jackson is an extremely durable arm who will fix that problem when he gets the ball.
New York Mets
Key Additions: 2B Neil Walker, SS Asdrubal Cabrera, OF Alejandro De Aza, P Antonio Bastardo
Key Losses: OF Michael Cuddyer, P Jon Niese, P Tyler Clippard
The best rotation in the MLB and most complete team will enter 2016 with a target on their back rather than doing the shooting like they did in 2015. Everyone had already wrapped up the division to the Nationals but the Mets stole it away with their pitching and acquisition of Cespedes at the trade deadline (17 homers in 57 games in the Big Apple). They will likely do the same this year (I was on the National train last season though, so I'm a little more cautious this year).
Lineup: Walker is a good offensive second baseman, but I worry about his swing in Citi Field. Granderson saw some regression when he came in from Yankee Stadium and while the differences between PNC and Citi are not as vast as they are between Yankee Stadium and Citi, I do expect to see some regression. There's been some talk about moving d'Arnaud to first base and pushing Duda to the outfield if Conforto isn't producing; that way prospect extraordinaire Kevin Plawecki can play every day behind the plate and get his excellent bat in the lineup.
1) Curtis Granderson, RF
2) Neil Walker, 2B
3) Yoenis Cespedes, CF
4) DUDA, 1B
5) David Wright, 3B
6) Michael Conforto, LF
7) Travis d'Arnaud, C
8) Asdrubal Cabrera, SS
Rotation: Matt Harvey, Jacob deGrom, Noah Syndegaard, Steven Matz, Bartolo Colon
Oh, and Zack Wheeler is going to return in the summer, too. It's just filthy top to bottom. And Bartolo threw 194 innings last year. At 42. Good luck.
Philadelphia Phillies
Key Additions: P Mark Appel (prospect), OF Peter Bourjos, P Jeremy Hellickson, P Charlie Morton
Key Losses: P Aaron Harang, OF Jeff Francouer, P Ken Giles

This is the Braves and Phillies in 2016. The Phillies narrowly avoided 100 losses last season, winning on the final day to finish at 63-99. Unfortunately it won't get much better moving forward. Again, in another 5-7 years, the division will be flipped on its head and the Phillies will be reigning supreme with their crop of prospects. They sold Cole Hamels (and a lot of his salary) to the Rangers for a heap of prospects, and did the same with closer Ken Giles to the Astros for another heap of prospects, including former #1 overall pick Mark Appel. They have a few good young players like Freddy Galvis and Maikel Franco, but still have to sit on the last few big contracts from the 2008 World Series team (Ryan Howard, Carlos Ruiz). For the sake of 2016, though, it's pretty ugly.
Lineup: If Ryan Howard can produce even a fraction of what he did in 2006, it will be a somewhat enjoyable season in the City of Brotherly Love. Unlikely, but diehard Phillies fans will be eager to see how their young guys can withstand a whole season.
1) Freddy Galvis, SS
2) Peter Bourjos, CF
3) Maikel Franco, 3B
4) Ryan Howard, 1B
5) Cody Asche, RF
6) Odubel Herrera, LF
7) Carlos Ruiz, C
8) Cesar Hernandez, 2B
Rotation: Aaron Nola, Jeremy Hellickson, Jared Eickhoff, Matt Harrison, Aaron Oberholtzer
It's a good enough group to fight through this season. These folks will throw the occasional gem but other than that, they are just a stopgap until better things come along in the future.


Washington Nationals
Key Additions: 2B Daniel Murphy, P Bronson Arroyo, P Yusmiero Petit, CF Ben Revere
Key Losses: P Drew Storen, P Craig Stammen, P Jordan Zimmermann, P Doug Fister, SS Ian Desmond, CF Denard Span, IF Yunel Escobar
3-time Manager of the Year Dusty Baker is in as Nationals skipper, and not a moment too soon. The 2015 Nationals monumentally underachieved, ending just above .500 and the league's MVP getting choked out in the last few days of the season, a symbol of pent up frustration and splintering clubhouse relationships.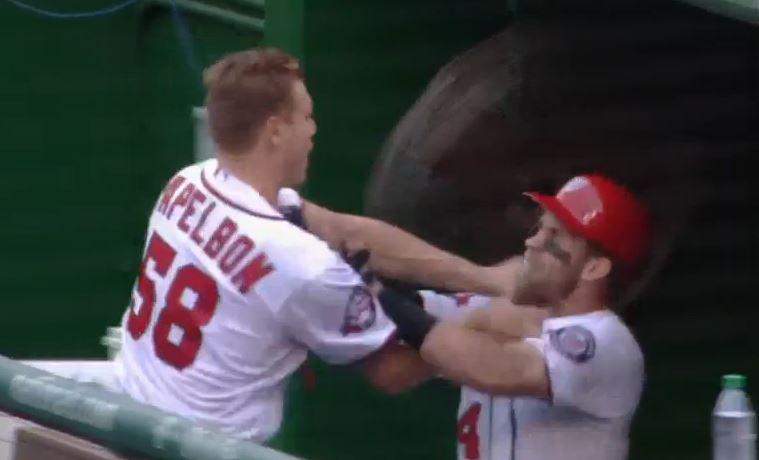 Although Harper has admitted he doesn't see himself as a leader, that doesn't mean the Nationals are aimless. Baker has taken the Giants, Cubs, and Reds to the postseason, and the Nationals are equally as talented as those teams he's had in the past. They upgraded in the infield with Daniel Murphy (Ian Desmond was a massive defensive liability) but the brittle bones of Anthony Rendon, Jayson Werth, and Ryan Zimmerman are worrisome.
Lineup: Health depending, the Nationals are quite good. They still managed to finish 3rd in the NL in runs and home runs last season, and that was without Rendon and Werth for half the season. If anyone in the outfield gets hurt again (more than likely given the age of the roster), youngster Michael Taylor can fill in.
1) Ben Revere, CF
2) Anthony Rendon, 3B
3) Bryce Harper, RF
4) Ryan Zimmerman, 1B
5) Daniel Murphy, 2B
6) Jayson Werth, LF
7) Wilson Ramos, C
8) Danny Espinosa, SS
Rotation: Max Scherzer, Stephen Strasburg, Gio Gonzalez, Tanner Roark, Joe Ross
The Nats' bread and butter. Losing Fister and Zimmermann won't hurt as much seeing as they have Roark and Ross to take their place. Scherzer had an excellent season last year, leading the MLB in complete games and shutouts, and a career best .918 WHIP and 2.79 ERA.
Prediction:
1) New York, 96-66
2) Washington, 87-75
3) Miami, 82-80
4) Philadelphia, 68-94
5) Atlanta, 62-100
Division Superlatives
Best outfield: Miami
Best infield: Washington
Best rotation: New York
Best bullpen: New York
Best lineup: New York
That about sums in up. The Mets won the league for a reason and they didn't make many changes in the offseason. Are they better than the Cubs or Pirates? Maybe, maybe not. But the Mets won't be as battle tested come postseason time. Thanks for reading.
Header photo: Anthony Causi