We are off and running with our 2015 predictions on the Billpen. Amidst the news of Anthony Bosch going to jail, Barry Zito signing with the A's, and Jason Giambi retiring, we will be breaking down the NL Central today in the same pattern as last night's post. 2014 results, team by team updates and analysis, and then finally the predictions.
The NL Central is going to look a lot different from past years. It is the Cardinals' division to lose once again, and while the competitors have leveled the playing field a little, it won't be the same type of tight race as we saw last year.
2014 Results
1. St. Louis Cardinals, 90-72; lost NLCS to Giants
2. Pittsburgh Pirates, 88-74; lost NL Wild Card game to Giants
3. Milwaukee Brewers, 82-80; one of the biggest collapses of recent regular season history
4. Cincinnati Reds, 76-86
5. Chicago Cubs, 73-89
Chicago Cubs
Losses: P Kyuji Fujikawa, P Carlos Villanueva, P Wesley Wright
Additions: M Joe Maddon, P Lon Lester, C Miguel Montero, C David Ross, P Jason Hammel, CF Dexter Fowler, P Jason Motte, 2B Tommy La Stella
There is a lot of buzz surrounding the Cubs in the coming years. Aside from the deep farm system the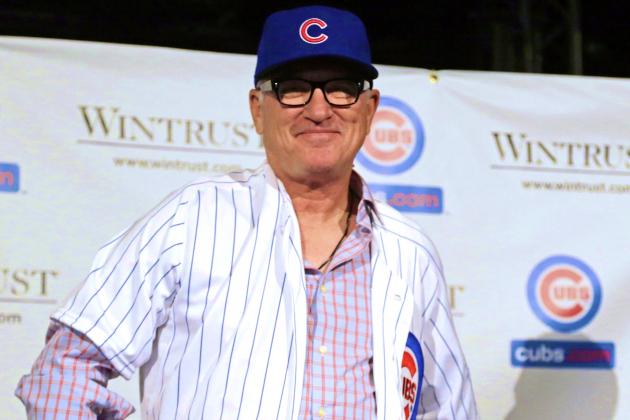 Cubs boast, they also sought out arguably the two largest names of the offseason in forward thinking manager Joe Maddon and starting pitcher Jon Lester. Ross (Lester's personal catcher), Lester, and Maddon have more playoff experience between the three of them than nearly the entire Cubs roster does considering how young they are. Dexter Fowler, Anthony Rizzo, and Starlin Castro will hold down the fort as the free swinging rookies Javy Baez, Jorge Soler, Kris Bryant, and Arismendy Alcantara learn the ropes. And the crazy part: if anyone doesn't pan out, there is someone at Iowa itching to get called up (Addison Russell, Billy McKinney).
Projected Lineup
1. Dexter Fowler, CF
2. Starlin Castro, SS
3. Anthony Rizzo, 1B
4. Jorge Soler, RF
5. Javier Baez, 2B
6. Miguel Montero, C
7. Chris Coghlan, LF
8. Arismendy Alcantara, 3B (Kris Bryant set to debut early May)
9. Pitcher
Very young, very talented. Tons of strikeouts, but also tons of home runs. I can't wait to see what Joe Maddon can do with this blend of young and younger talent.
Projected Rotation
1. Jon Lester
2. Jake Arrieta (broke out in 2014, 10-5, 2.53 ERA, took multiple no-hitters deep into games)
3. Jason Hammel (back and forth from CHC to OAK; 8-5, 2.93 with CHC)
4. Kyle Hendricks
5. Travis Wood or Tsuyoshi Wada
Lester is obviously an incredible pitcher and will be a leader and role model for a young staff that can put together some competitive starts. With Hector Rondon and Pedro Strop at the back end of the bullpen, the Cubs might be able to win some games rather than Carlos Marmol and Kevin Gregg closing.
Cincinnati Reds
Losses: P Mat Latos, OF Ryan Ludwick, P Alfredo Simon
Additions: P Paul Maholm, P Burke Badenhop, OF Marlon Byrd, SS Eugenio Suarez
New manager Bryan Price had his hands full when Joey Votto suffered from a quad injury
last year and things went south quickly for the Reds. Homer Bailey and Brandon Phillips also missed time, leaving the majority of the work to fall on Johnny Cueto's dreadlocks. He had an incredible year but not good enough without his supporting cast to be competitive. Unfortunately, given the Reds offseason moves of sending Alfredo Simon and Mat Latos away, they will hover around the same record as last season.
Projected Lineup
1. Billy Hamilton, CF
2. Brandon Phillips, 2B
3. Todd Frazier, 3B
4. Joey Votto, 1B
5. Devin Mesoraco, C
6. Jay Bruce, RF
7. Marlon Byrd, LF
8. Zack Cozart, SS
9. Pitcher
Bruce had a career worst season, Marlon Byrd's age is becoming a liability, and Joey Votto is becoming Tulowitzki on the injury front. There will be a lot of pressure on Hamilton to get on base more and if Todd Frazier can at least repeat his .273 average from 2014, the Reds might be able to creep out of 14th place in NL team average and OBP.
Projected Rotation
1. Johnny Cueto
2. Homer Bailey
3. Mike Leake
4. Tony Cingrani
5. Dylan Axelrod
Aroldis Chapman is one of the best closers around but he doesn't always get a chance to close. The Reds struggle to score runs, but when he does take the ball it's pretty much a sure thing because a 17.7 K/9 isn't too shabby.
Pittsburgh Pirates
Losses: Russell Martin, Travis Snider, Jason Grilli, John Axford, Edinson Volquez
Additions: Franisco Cervelli, Corey Hart, Steve Lombardozzi, Antonio Bastardo
The Pirates are a few moves shy of rivaling the Cardinals for the NL Central title. I think they
will be able to compete for a Wild Card spot. They have terrific cohesion and chemistry and one of the best fan bases in the league, making them a fearful competitor. Although losing Russell Martin, the motor of the team, will hurt, Francisco Cervelli is back from suspension and away from tumultuous Yankee Stadium, making him a compelling starting catcher. Neil Walker is becoming one of the best second basemen in the country, Josh Harrison earned All-Star honors last year and the young outfield of Marte, Mccutchen, and Polanco is fast, powerful, and sound.
Projected Lineup
1. Starling Marte, LF
2. Josh Harrison, 3B
3. Andrew McCutchen, CF
4. Pedro Alvarez, 1B
5. Neil Walker, 2B
6. Gregory Polanco, RF
7. Jordy Mercer, SS
8. Francisco Cervelli, C
9. Pitcher
The Pirates' rotation is solid at best, but hinges on the success of an aging AJ Burnett and if Francisco Liriano bouncing back from a poor 2014 season. Gerrit Cole, Jeff Locke, and Vance Worley are all 26 or younger, making them a strong trio of young arms that can eat a lot of innings.
Projected Rotation
1. Gerrit Cole
2. Jeff Locke
3. Francisco Liriano
4. AJ Burnett
5. Vance Worley
Milwaukee Brewers
Losses: 1B Lyle Overbay, 2B Rickie Weeks, P Yovani Gallardo, P Tom Gorzelanny, P Francisco Rodriguez (still currently a free agent)
Additions: 1B Adam Lind
The Brewers led the NL Central for close to 2/3 of the season last year and simply
evaporated down the stretch under the pressure of the more experience and talented Cardinals and Pirates. This year, given the loss of one of their best starters in Gallardo, I don't think they will be competitive as long as last they were last year. If Adam Lind is the only major contribution this offseason, it could be a slow year for the beer makers.
Projected Lineup
1. Carlos Gomez, CF
2. Jonathan Lucroy, C (Lucroy just was diagnosed with a hamstring injury, potentially not ready for Opening Day)
3. Ryan Braun, RF (coming off of thumb surgery)
4. Aramis Ramirez, 3B
5. Adam Lind, 1B
6. Khris Davis, LF
7. Scooter Gennett, 2B
8. Jean Segura, SS (if Braun doesn't hit him in the face again)
9. Pitcher
They were just about middle of the road in terms of offensive statistics. They'll be right around there again.
Projected Rotation
1. Matt Garza
2. Kyle Lohse
3. Wily Peralta
4. Michael Fiers
5. Jimmy Nelson
Not bad. Not great, either. Expect the Brewers to play spoiler for most of the year.
St. Louis Cardinals
Losses: P Jason Motte, SS Daniel Descalso, P Justin Masterson, RF Allen Craig (he left midway last season), RF Oscar Taveras (RIP)
Additions: RF Jason Heyward, P Jordan Walden
The Cardinals have run the NL Central for years and will continue to do so with Mike Matheny
at the helm. They weren't busy in the offseason, but signing Jason Heyward after the tragic death of Oscar Taveras was just about all they needed. With the best catcher in the game, Jon Jay, Matt Adams, and Matt Carpenter becoming the most consistent hitters in the NL, I'm confident the Cardinals will win the NL Central.
Projected Lineup
1. Matt Carpenter, 3B (.272)
2. Jason Heyward, RF (.271)
3. Matt Holliday, LF (.272)
4. Matt Adams, 1B (.288)
5. Yadier Molina, C (.282)
6. Jhonny Peralta, SS (.263)
7. Kolten Wong, 2B (.249)
8. Jon Jay, CF (.303)
9. Pitcher
What do you even say to an opposing pitcher? Like the Giants, the righty/lefty combinations are a nightmare. Starting with Carpenter, it goes lefty, lefty, right, lefty, righty, righty, lefty, lefty. I don't really have a way to describe how good this lineup really is. Individually, each hitter is very good, but when you mesh them together and their situational hitting, they are absolutely fearful.
Projected Rotation
1. Adam Wainwright
2. Lance Lynn
3. John Lackey
4. Michael Wacha
5. Carlos Martinez
Closer Trevor Rosenthal finished 2nd in the NL in saves last year with 45, and even though Jason Motte went to the other side of the rivalry, Pat Neshek was an All-Star last year and Seth Manness had a sub-3 ERA in 73 games last season. Easily the team to beat.
Where will they finish?
1. St. Louis Cardinals, 97-65. Top to bottom, the team to beat. 
2. Pittsburgh Pirates, 89-73. Incredibly competitive, but the rotation has some weaknesses. In the running for a Wild Card spot.
3. Chicago Cubs, 85-77. The first of many competitive seasons to come. Adding Lester and Maddon amidst the youngsters is a great first step.
4. Milwaukee Brewers, 77-85. Some bright spots but they'll need Lucroy to be healthy out of the gate.
5. Cincinnati Reds, 74-88. Simply not their year. Cueto and Votto will have to outperform even themselves to keep the Reds afloat.
I don't think the NL Central will be a very close race but there are some good teams that will be fun to watch.
Thanks for reading.